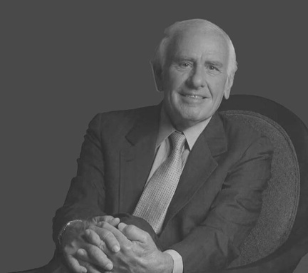 Jim Rohn was an entrepreneur, motivational speaker, and author, whose inspiring words touched people around the world. In his "How to Have Your Best Year Ever!" seminar presented in Dallas-Fort Worth at the start of the 90s, Jim goes over the key aspects of personal development and how anyone, no matter their circumstances, can begin to improve their life.
After meeting his mentor, Mr. Shoaff, when Jim was just 25 years old he went on to become a millionaire by age 30. He then lost his millions but was able to recover and improve his situation thanks to what he learned on that journey to becoming a millionaire.
This seminar is divided into four chapters. The first chapter goes over the five major pieces of the life puzzle: your philosophy, your attitude, your activity, your results, and your lifestyle. All of these pieces have an important role in the journey of personal development.
In the second chapter, Jim discusses why money is a good tool to measure personal development, how life is like the seasons, and additional parts related to personal development, like reading and journaling.
The third chapter covers the five abilities of personal development: the ability to absorb, the ability to respond, the ability to reflect, the ability to act, and the ability to share. Jim also takes the time to discuss goal setting and the two key things to keep in mind when creating a goal for yourself.
In the final chapter, Jim speaks about achieving financial independence, how to be a good communicator, and how to overcome negativity.
We've transcribed the full transcripts of each chapter of "How to Have Your Best Year Ever!" so that readers can enjoy Jim's timeless advice.
Jim Rohn's "How to Have Your Best Year Ever!" seminar transcripts:
Chapter 1:

Chapter 2: 
Chapter 3: 
Chapter 4: